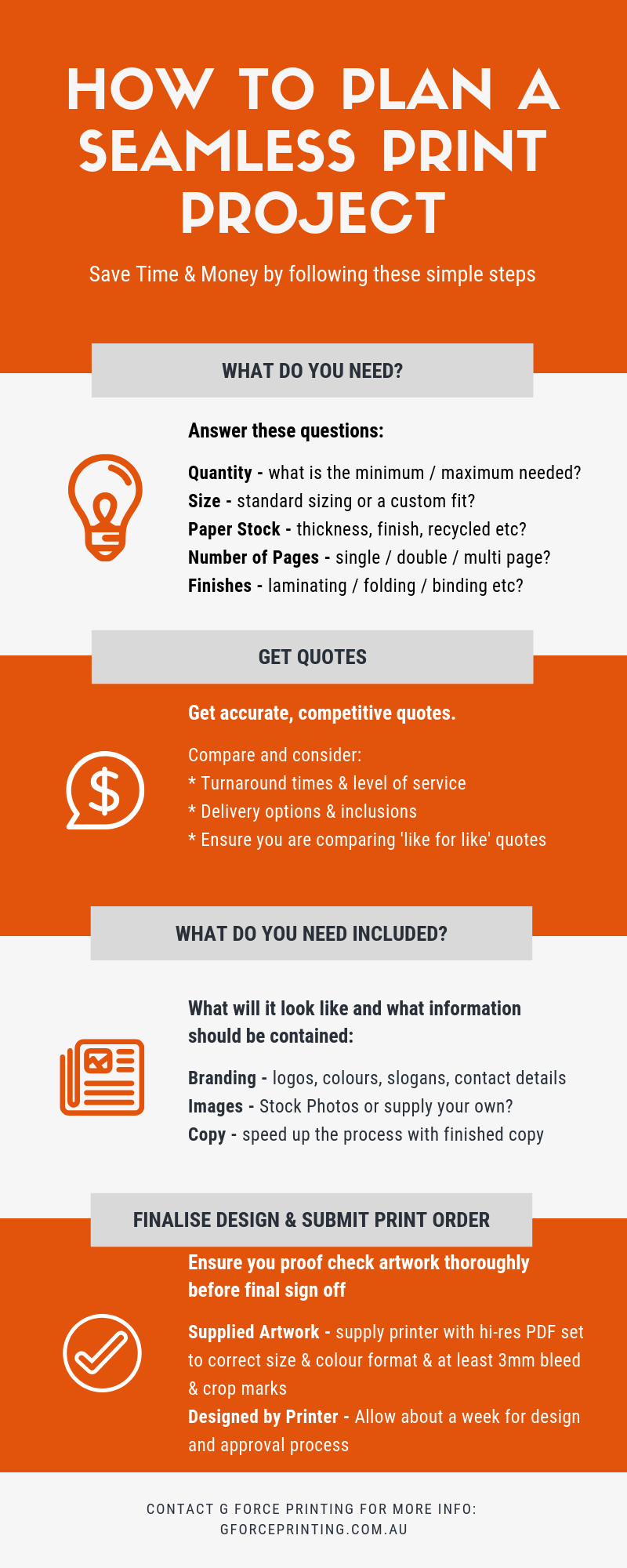 How to Plan a Seamless Print Project
Published: Monday, 15 April 2019 14:11
Follow these simple steps to ensure you save time and money on your next print project:
1. What do you need?
Quantity - Consider what is the minimum and maximum quantity you're likely to use?
Size – Can you use one of the following standard sizes or do you need a custom fit? Always measure and quote custom size jobs in millimetres to be exact.
A0 (1189 x 841mm)
A1 (841 x 594mm)
A2 (594 x 420mm)
A3 (420 x 297mm)
A4 (210 x 297mm)
A5 (210 x 148mm)
A6 (105 x 148mm)
DL (210 x 99mm)
Paper stock/ Substrate – For paper stocks you'll need to decide on the following:
Thickness – 80gsm, 90gsm, 150gsm, 250gsm, 300gms?
Finish – gloss, matt, uncoated, textured, recycled, adhesive, NCR?
Or do you need something more durable than paper? - vinyl stickers, vinyl banners, corflute signs, banner printing, pull up banners, a-frame signs, flag banners
Number of pages – Single, double sided or multipage brochures/booklets? What is the total number of printed pages required for multipage?
Finishes - laminating, spot gloss varnish, cut to shape, folding, perforating, padding, binding, etc.
2. Get Quotes
Check quote specifications to ensure they are accurate
When comparing quotes from different print companies make sure they are like for like. Is the paper thickness the same? Are they quoting on the same colour format (CMYK v's PMS)? These things not only make a big difference on price but also on the finished product.
Has delivery/shipping been included in the total? If not how much extra will it cost?
What is the estimated turnaround time for production or can your deadline be met?
What level of service if being offering? Can they offer personalised service and advice? Over the phone or in person? Soft or hard copy proofs? Paper samples and/or colour swatches?
3. What do you need included?
Whether you engage the design service of a printer/graphic designer or you will be designing yourself you will first need to consider what you'd like it to look like and what information it should contain.
Branding - Logos, colours, slogans, contact details
Images – Will you supply your own original photos or do you require stock photos? Your printer/designer will have access to stock photos but they will need to be purchased on your behalf so will come at an extra cost.
Copy – What do you want to say? What critical information does it need to contain? Supply typed copy to speed up the design process.
4. Finalise design & submit print order
Whether supplying press ready artwork or your printer designed it for you ensure you proof check it thoroughly before final sign off! Check all critical information is accurate – dates, locations, contact details, prices? Also look for typos and ensure correct spelling.
Supplying artwork - Provide printer with a high resolution PDF. Ensure it is set to the correct size and colour format with at least 3mm bleed and crop marks.
Designed by printer- Depending on the scope of your project allow about a week on top of the turnaround time for the design and approval process. Simple projects like posters, flyers, notepads, envelopes, letterhead or business cards may be completed in just a few days whereas more complicated projects like multipage brochures, annual reports and yearbooks will take up to a few weeks.
To discuss your upcoming print project contact the team at G Force printing today.