When will digital printing overtake offset printing?
Published: Thursday, 07 May 2020 10:51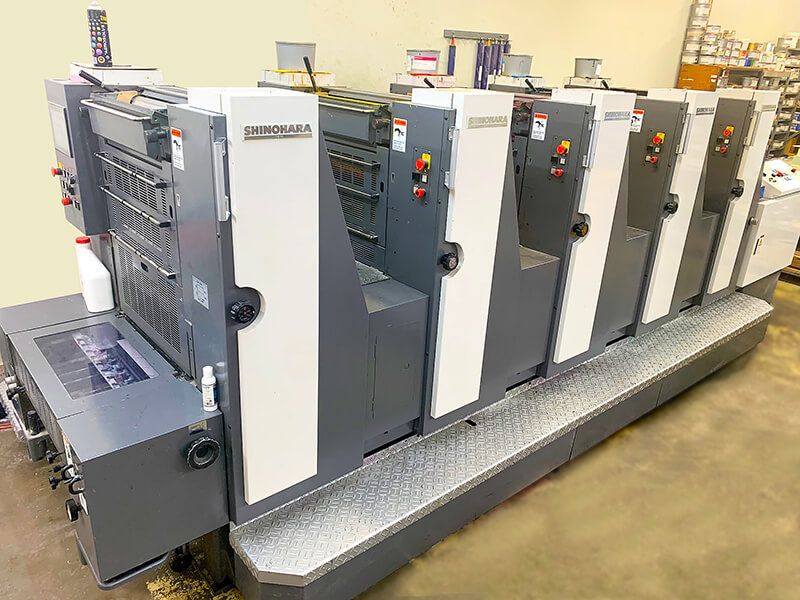 There's been a lot of debate about digital printing overtaking offset printing and when this will happen. There's also lots of confusion about what offset printing actually is and the benefits of digital printing versus offset printing.
Many consider offset printing better quality than digital printing which was definitely the case early on but digital printing technologies have come a long way in the last decade.
Truth is, both options have their own unique benefits so it's more a matter of which option is best for your individual print project than one being better quality than the other.
To answer the question of when digital printing will overtake offset printing, we should first address the following:
Is offset printing better than digital printing?
Quite simply the answer is no. Offset printing is not 'better' or of 'higher quality' than digital printing but it does have capabilities beyond what can currently be achieved via digital printing. It will definitely be more suitable for certain print projects because of this but on the flipside the same is true for digital print projects.
When would you use offset printing?
It's best to use offset printing when your print project matches any of the following criteria:
1. You require a large quantity
It is hard to give an exact figure for when offset printing becomes more cost effective than digital printing as it also depends on the size of what you are printing.
Most digital presses print on slightly larger than A3 sheets of paper, often referred to as A3+ or SRA3, they measure 450 x 320mm. Offset print machines have the capacity to print on even larger sheets of paper, sometimes as large as A1 (594 x 841mm) or A2 (420 x 594mm) so if you are printing something like a business card or an A6 flyer it will be laid up on this sheet as many times as it fits.
A standard sized business card, for example, can be laid up 21 times on an A3+ sheet of paper/cardboard so to print a box of 250 x business cards only requires 12 A3+ sheets and even less for a larger offset printing press. An A4 flyer would only fit on an A3+ sheet of paper twice so 250 x A4 flyers would require 125 A3+ sheets and less again for A1 or A2 sized offset presses.
For this reason, total quantity is not the only factor but also the size of what you are printing. It is the total number of sheets required not the total number of the finished item that determines if it will be more cost effective to print offset rather than digital.
A digital press works on a click rate (a set price per sheet printed) and has a slower running speed than offset printing presses but the setup time and costs are much lower. Basically when the digital click rate becomes higher than the set-up cost of the offset press, offset printing becomes the more cost-effective option.
2. It needs to be printed in Pantone colour inks
A digital press can only print in full colour (CMYK) whereas offset printing offers the use of both CMYK and Pantone (spot) colour inks.
Full colour is achieved by mixing various ratios of cyan, magenta, yellow and black on press to achieve the desired result whereas pantone or spot colour inks are pre-mixed to the specific colour as defined by the Pantone Matching System (PMS). I often compare them to household paints as the ink colours match Pantone's swatches and have specific names to identify them, often a number e.g. 485 is a commonly used red ink.
Although CMYK can achieve a large spectrum of colours there are some colours such as fluorescents and metallics that aren't possible to achieve in CMYK. There are also certain colours, like bright orange that will never come out as vibrant if printed in CMYK versus PMS colour.
Pantone inks are used most commonly for printed business stationery such as letterhead and envelopes. They are a good choice when colour matching, quality and consistency are crucial for branding.
3. The same page design is being printed repeatedly throughout the print run
With offset printing each different page design adds additional set up time and cost so it is better suited to printing the same page design many times.
A4 flyers, envelopes, posters, notepads, invoice books and Take 5 books (view Take 5 Safety Checklist examples) are good examples of print jobs that involve the same page design being printed many times. Therefore, these items become suitable for offset printing at a lower quantity.
Magazines, newsletters and booklets on the other hand are made up of many different page designs so if there's a high number of pages requiring variable data but a low quantity the set-up cost will be too great making them more suitable for digital printing.
This isn't to say that an A4 flyer must be printed offset or a magazine must be printed digital but the number of different page designs affects the set-up costs for offset printing and is therefore a factor along with quantity which will determine which method of printing is more suitable.
It is for this same reason that offset printing is not suitable for variable data printing or any printing runs that require personalisation.
What is the difference between digital printing and sheet-fed offset printing?
The biggest difference between digital printing and sheet-fed offset printing is that digital printing doesn't require printing plates and offset print runs do.
With digital print runs the digital file is sent straight from the computer to the digital printer so there are virtually no set up costs or much time required.
Offset printing requires printing plates because the digital file or image can't be sent directly to the printing press. To get the page design from computer to printed sheet of paper the image is sent to a plate maker and the printing plates are created. The plates are then set up on the printing press and the image is offset from the printing plates onto the paper.
Each different page design and colour requires a separate plate so the cost to produce the plates and the time to set them up on press is what make the set-up cost for printing offset higher than digital. Once set up however, an offset printing press runs at a much faster speed than a digital printer.
Some other differences between printing offset and printing digital are:
Offset printing can print with full colour (CMYK) and Pantone (spot) colour inks but printing digital only CMYK inks can be used
Offset printing presses can print with larger sheets of paper than a digital machine
Digital printing costs are based on a click rate and offset printing prices are based on set-up cost and print run time
So, to answer the original question 'When will digital printing overtake offset printing?' – it will only overtake offset printing when it offers much faster print speeds and it would only make offset printing obsolete when printing digital has the capability to produce colour outside the CMYK spectrum.
Do you require high quality digital print or offset printing services in Perth? Contact G Force Printing for all your printing needs.