Print Ready Designs in Canva
Published: Monday, 11 April 2022 13:39
Sign up for a Canva account to create your own customised print ready artwork!
It's free and easy to create print ready files online including business cards, invitations and posters with options to upload your own artwork and photos. Check out a range of free, existing Canva designs and templates or create your own using a blank template. Bring your designs to life!
Common Document Sizes (Australia):
A4: 210 x 297mm (standard paper size used for flyers, resumes, magazines, reports, greeting cards, invitations, books, certificates, letterheads, menus, signs)
A5: 148 x 210mm (half an A4; used for flyers, invitations, greeting cards, brochures, booklets, zines)
A3: 297 x 420mm (twice an A4; used for posters, large brochures, signs, cards)
DL: 99 x 210mm (A4 folded into thirds; used for envelope inserts, compliment slips, brochures, flyers, raffle tickets)
Business Cards: 90 x 55mm
Large format: A0 (841 x 1189mm), A1 (594 x 841mm), A2 (420 x 594mm) A Frame (600 x 900mm)
Setting Up Your Canva Print Ready Artwork
On the Canva editor, go to File (top left).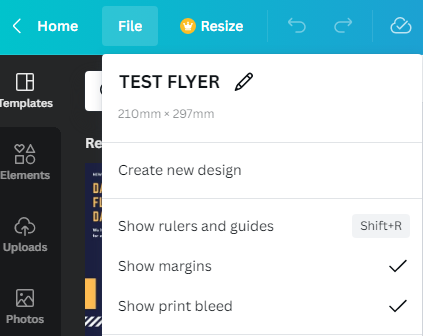 Set up your template as follows:
Tick 'Show margins'. This will generate a set of broken lines inside the document. These broken lines act as a guide to help keep important elements inside the margins (such as images or text) and prevents them from being trimmed off.
Tick 'Show print bleed'. This will generate a second set of broken lines that appear beyond the margins, closer to the outer edge of the document.
When files are set to be printed to the very edge of the paper or card (such as a background colour or image), having bleed helps to avoid unwanted white edges when the document is printed. Bleed helps keep sizing consistent as well. For example, printing an A4 document with a white border and trimming it off will result in a document smaller than an A4 page.

Crop marks appear once the document has been saved as a print ready PDF file type. Crop marks are vertical and horizontal marks indicated in the corners of your document file to show the printer where to trim the paper. Your document file will be printed on an oversized sheet of paper and accurately trimmed down to the final size.

How To Download Your Print Ready Document from Canva
On the top right of the Canva editor, click 'Share.'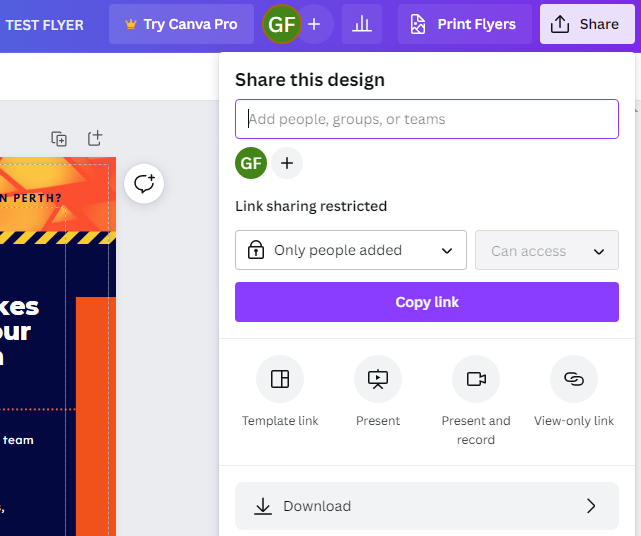 PDF Print and Print Bleed Option
In the Canva editor, select Download, then PDF Print (High quality, multi-page document). Tick Crop marks and bleed.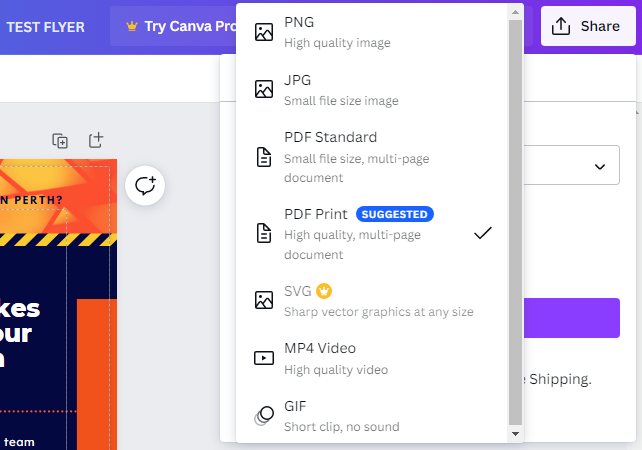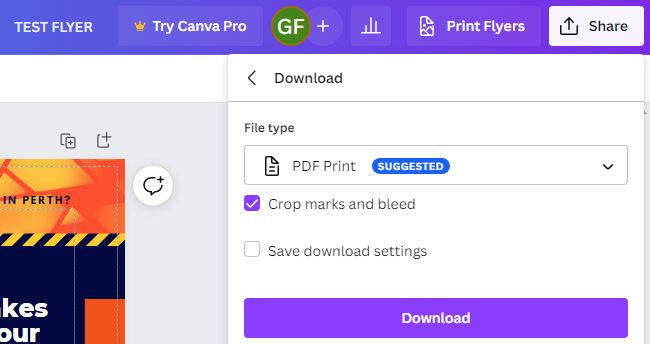 Proceed to click on the Download button (under 'Save download settings').
Your print ready PDF design from Canva will download (check your Downloads folder in case). Upload and send the design PDF via email or share a link to your Canva files.
Experiencing Issues Printing From Canva?
Share the link to your Canva designs by clicking Share (top right).

Type in gforce@gforceprinting.com.au and make sure 'Can edit' is ticked.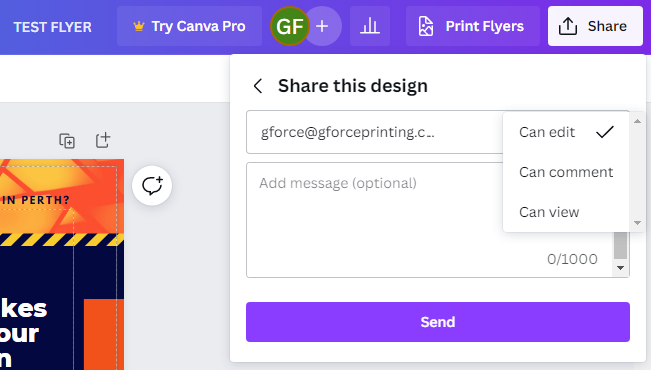 Add a message if you need to let us know of any special instructions we need to take into consideration for your design.
Tick Invite gforce@gforceprinting.com.au to your Canva team.
Click Send. We will receive a link to accept with access to join your team on Canva to edit your design template (ask our team for a quote & pricing to convert your design to press-ready artwork, starts at as little as $15+gst).
Unfortunately, you can't resize design templates unless you have a Canva Pro subscription.
Most design templates should be set to standard dimensions but if you need a specific size and can't do it on Canva, our design pros are happy to assist. To find out more, ask our friendly design team!
Frequently Asked Questions
Resolution & Size: 300 dots per inch (dpi) allows for crisper, clearer and more detailed prints. If the images are low resolution, the prints appears blurry or pixelated. Resolution helps determine how much an image can be enlarged without distorting the quality. While a low resolution photo looks good on screen, the same photo can also look blurry when printed.
CMYK (4 Colour Process): Stands for Cyan (C), Magenta (M), Yellow (Y) and Black (K). CMYK ink colours are layered to produce a wide spectrum of colours in the printing process. The only option for digital printing and also popular for offset, it is best suited for multicolour and photo printing as well as photorealistic imagery. Limitations of CMYK is that it often can't replicate the same vibrancy and brightness achieved with Pantone or with on-screen RGB colours. As CMYK colours can also vary between printers, it is up to you to determine how accurate and consistent you would like your chosen colours to be.
Fonts: Note that readability and legibility matter when choosing fonts. Fonts that are readable and clear help engage the viewer. Selecting the right font sizes, colours and font combinations for your design creates a contrast which appeals to viewers and keeps them reading. The right fonts should be appropriate for the print job, taking into account the needs of its audience and creates a good first impression. A good combination ensures that the print stands out.
Contact The Canva Print Experts At G Force Printing
Submit your print order to G Force Printing today! We take the hassle out of your printing and design requirements and can have your print or design order delivered to anywhere in Australia.
We offer a range of print services to customers, from digital printing to offset and large format printing. Our online quote, ordering and print management system is available 24 hours, 7 days a week. Speak with one of our friendly print team members (based in Perth, Australia) to see how we can assist with a range of print services or visit us at our office location in O'Connor.
For great service and easy to understand answers regarding printing, call us at (08) 9331 3391, visit us online via our website or email us at gforce@gforceprinting.com.au