5 Ways Custom Raffle Tickets Can Make Your Fundraising Better
Published: Tuesday, 06 December 2016 16:08
Fundraising success remains a critical element to all sorts of charities, educational institutions, and other organisations.
And one of the most important ways to succeed within fundraising comes in the form of raffles
One of the best ways to make a direct connection with your target audience is by personalising your content.
This personalisation helps people remember what you're all about while distinguishing you among the 'information overload" we all experience every day.
The truth is that personalised content always leaves a better impact on your leads and customers. After all, this type of content is much better suited at making a direct connection. Wouldn't you feel more connected to something you're reading if it's related to your exact business needs or goals?
Making It Personal at Your Next Event or Fundraiser with Custom Raffle Tickets
One of the best ways to make an even bigger splash with your marketing comes during contests, fundraisers, and similar events. A raffle or other type of ticket-based event is a perfect example of where you can take your personalisation and brand recognition even further.
Have a look at 5 ways a custom raffle ticket can enhance your brand and improve your own marketing efforts.
1. Better Name Recognition
A generic raffle ticket with no additional information doesn't say much. Sure, it gives ticketholders what they need to know in terms of whether or not they're a winner, but why not enhance your brand's name recognition with a custom ticket?
You can add all of this information on each ticket:
Your Company's Name
A Business Logo
Phone Number
Website Address
Slogans, Pictures and Additional Information
2. Showcase Prizes through Pictures
Speaking of pictures, there's a reason why many contests, sweepstakes, and related promotions provide vivid pictures and displays of their prizes. It's because potential raffle ticket buyers want to see what it is they may win by purchasing the ticket!
A custom raffle ticket can include pictures of your prizes. From cars or electronics to cruises or money, pictures help leave an even stronger impression. By including pictures of what can be won, you can make your tickets even more attractive to buyers. And this will inevitably help your raffle or fundraising event enjoy even more success.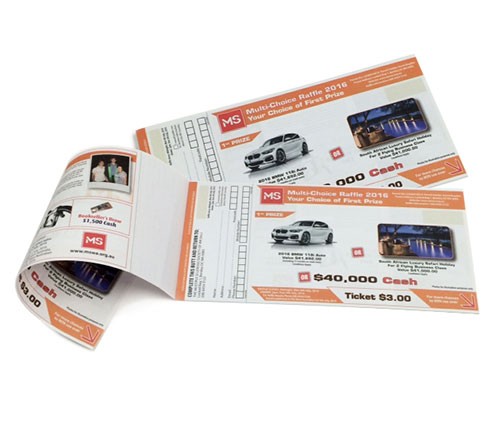 3. More Attractive Design
A customised ticket will make a much bigger splash than a plain, generic option. It will make your ticket much more memorable. Don't forget, the person that purchases your raffle ticket will be checking it with excited anticipation at some point to see if they have won a prize! And when they do, they will see your business details and logo. People will be more likely to remember or recognise your business, brand, or logo in the future.
4. Great Way to Tell More About Your Cause
A physical raffle ticket provides a lot of so-called "real estate" to get your message across. Of course you want to highlight your brand name, logo and contact information, and images of the potential prize being offered. But these tickets also give you the perfect spot to explain more about your cause.
For example, you can use a custom raffle ticket to provide an 'About Us' section on the back. This space gives you all the room you need to explain your mission, your goals, your values, and other inspirational words. Providing additional information in this way connects buyers directly with your cause, and helps you to explain precisely what you are trying to achieve.
5.Wonderful Physical Branding Tools
Each raffle ticket you sell represents a physical item which displays your brand, your logo, website address, and other key branding elements. While the push toward digital marketing has changed the advertising landscape, physical items in marketing are still vital, and using custom tickets can offer an effective, tangible marketing initiative with minimal additional effort.
Easy Steps for Even Better Marketing Results
Even something as simple and straightforward as customising your raffle tickets can translate to big results in terms of selling potential. Custom tickets help to create a physical item that is attractive, enhanced with pictures of the prize, and full of information about your organisation. Why wouldn't you want to add this extra boost to your own raffle success potential?
If you're in the market for printing services, such as customised raffle tickets here in Perth and Australia-wide, contact the team at GForce Printing and Design today. We'll deliver high quality print products with all the information you need to take your marketing and brand promotion even further.