How to Build Better Brand Recognition Today
Published: Tuesday, 15 August 2017 14:59
If you own your business or if you are active in the business world, you know the importance of having a definitive brand strategy. Branding is how you get your business name out there, to both attract and retain new customers. 
A significant step in good branding is your logo. This is the 'face' of your business; you want something that is memorable and fits with your corporate image, while also giving a favourable first impression. If your branding is done correctly, it will build trust. People will be more likely to purchase products from you if they trust the source, and your logo will play a large part in building that initial brand trust. The key to good branding is forming an emotional link with your customers. 
A good business brand can also inspire your employees and help with employee recruitment. It encourages them to want to work hard each day, and gives them something to rally around. 
Different Types of Branding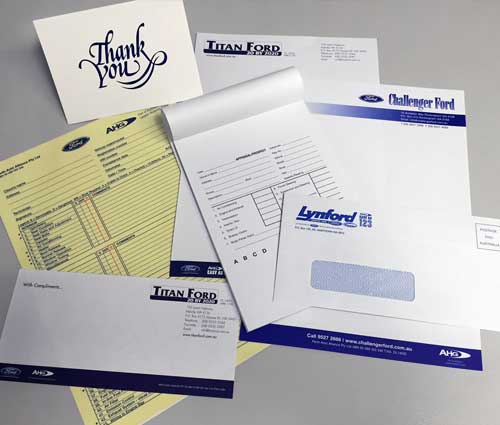 You may be asking yourself how you should go about getting your business brand out there. One area to focus on is your branded business stationary. No matter how large or small your business is, you'll need good business stationary to help build your brand and raise your brand recognition. 
Business Cards. Your business card design plays an essential part in your business branding. Often your business cards will be used to create a professional first impression. If you have an eye-catching, attractive business card design, with all your contact information on it, this will stick out in potential customer's minds. They are also an easy way to solidify your credibility with clients. Business cards are quick and easy to print, and are inexpensive. You can take them anywhere with ease and hand them out as you see fit.
Envelopes.  Your business envelopes may be the first thing your potential customer will see. You want to entice them to open any envelope they receive from you. If your envelopes catch the customer's eye and stand out from your competitors, you are on the right track to get more business.
Letterheads. Your letterhead is another important piece of your business brand. A proper letterhead can convey the professionalism you are trying to create. Your letterhead is a physical portrayal of your business and should reflect your brand. With the dominance of email communication, letterheads are reserved for important letters and other documents, so make sure yours is good quality and reflects your brand.
With Compliments Slips. A with compliments slip is another important piece in your business branding arsenal. One tip is to add a handwritten note to the with compliments slip before you send to your customers. This will make your brand stick in their memory, and it is always a nice touch. Make sure they contain the same branding information and contact details as your other business stationery. 
The Importance of Colour
Colours are vital to any business branding. If you choose warm hues, you can convey a message of energy and an uplifting feeling. Colours on the cool end of the spectrum convey stillness and calm. Your colour choices can influence your client's moods, as well as make you stand out. Keep your targeted customer in mind when designing your logo and choosing your colours.
Colour consistency is also vitally important in your business branding. Offset printing is best for achieving exact colour matches and keeping your brand colours consistent throughout all your business stationary. This is because your business cards and other business stationary can be printed in spot/pms colours. The professional design team at G Force Printing can help you with exact colour matching for all your business stationary, such as notepads, stickers and more.
Your brand strategy is important, so make sure you carefully plan and customise all your business stationary to suit. If you're not sure where to start, G Force Printing can help with your design and printing of business cards and other business stationary. We offer advice on everything we touched on here, and will help ensure your business stationary remains accurate and consistent with your brand. Take a look, and begin the journey of getting your business brand out there today!