Invoice Books
Invoice Book Printing
G Force Printing offers a variety of carbonless books to help your business run smoothly including custom invoice books, receipt books, quote books, purchase order books and more. Invoice books can be customised with a variety of options including page colour selection, custom artwork, duplicate or triplicate invoice books, perforated pages and more. We also offer Australia wide delivery on all invoice books and carbonless book print orders at an affordable price.
Carbonless books or NCR books are the most popular paper used to print invoice books and the like as it automatically transfers writing to the copies beneath without the need for a messy carbon sheet between the books invoice pages. In fact NCR stands for no carbon required, making them perfect for invoice books, sales receipt books and other carbonless book products.
Offset printing is by far the best way to produce invoice books and other carbonless books as the end result is much better quality. The NCR sheets in invoice books can also be numbered and perforated on press as they are being printed and customers have the choice between printing in black only, pantone colour or CMYK colour. Customers also have the option of adding artwork to their custom invoice books.
Many customers prefer using custom printed invoice books because they're simple, affordable and portable as well as quick and simple to use on the go, especially in the following industries:
Transport & logistics
Machinery and equipment hire
Lawn mowing and landscaping
Electrical, plumbing and refrigeration services
Locksmiths
Mechanical and auto
Cleaning services
Wholesale and retail
G Force Printing also have a range of invoice book templates available to choose from. You can trust our graphic design team to create and print professional looking invoice/receipt books that capture and display all the required details so they are both easy for staff to complete and simple for your customers to follow.
We recommend printing a minimum quantity of 5 NCR books or carbonless pads per order for better value and the more quantity you order at a time the cheaper the price per book. G Force Printing provide Australia wide delivery on all custom invoice book print orders.
Print Ready Carbonless Invoice Books
You can customise your businesses invoice books with a range of options including::
Page colour selection (white, pink, green, blue, yellow)
Numbering (we keep accurate records to ensure you never double up on an invoice number and know exactly which sheet/page to start at for your next sales order)
Full colour, black only or pantone colour printing (in keeping with your brand/products colour)
Perforating (for easy removal of the customer copy)
Cover options - Soft or hard front and back cover. Invoice book binding options stapled or with tape to reinforce spine
Duplicate or triplicate, 4-part or 5-part carbonless books available
Terms and conditions can be printed on reverse of invoice book page or invoice book back cover
Different invoice book size options available (A5, A4, A3 or custom book size)
Artwork
Company Details - Email Address, Company Logo, Company Name, Address
For all your invoice book printing needs in Perth and Australia wide and for help placing your order, contact the print experts at G Force Printing. With Australia wide delivery on all invoice books available at an affordable price, we have your invoice book print and artwork requirements covered.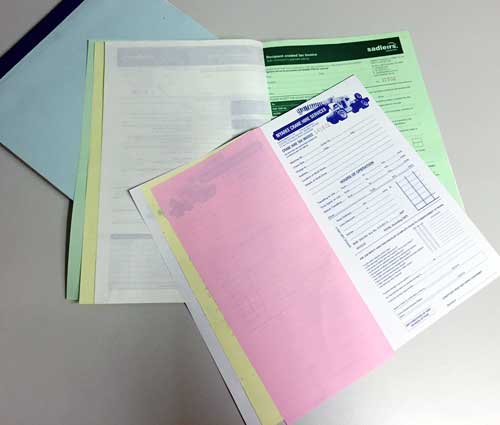 !--
View Pricing
-->
Contact Us